Becoming a personal trainer is a very fulfilling career. You get to spend every day doing something you love, keeping active, but you're also helping others. When you see a client make real progress and achieve their goals, that sense of accomplishment that you had such an impact on someone's life is hard to beat. Not only all that, but it can also be quite a lucrative career.
The numbers use below are based on earnings per year, which even though impressive, can be misleading. We know that the national average a personal trainer in Australia charges is around $60/45 minutes, but it varies a lot, and all depends on the location. For instance, personal training sessions at Life Personal Trainers cost about $75 to $91 per hour, at Be Active they cost between $50 to $100 per hour, $75 to $80 at Aspire, and $65 to $80 at Fitness Success.
So although the earnings below are comparable with Accountants, Retail Store Managers and Graphic Designers, a personal trainer would tend to have to work half the amount of time as those in the aforementioned jobs. As a earnings per hour, Personal Trainers earn roughly double.
The numbers below haven't take into account the number of hours worked, therefore it's safe to say that many of those submitting their figures might only work as a PT part-time, run bootcamps a few times per week, or work significantly less hours than a standard 9-5 job. Those Personal Trainers that do work 8 hours a day, might be those that are earning in the top bracket.
Click here for more on: Salary Potential of a Personal trainer.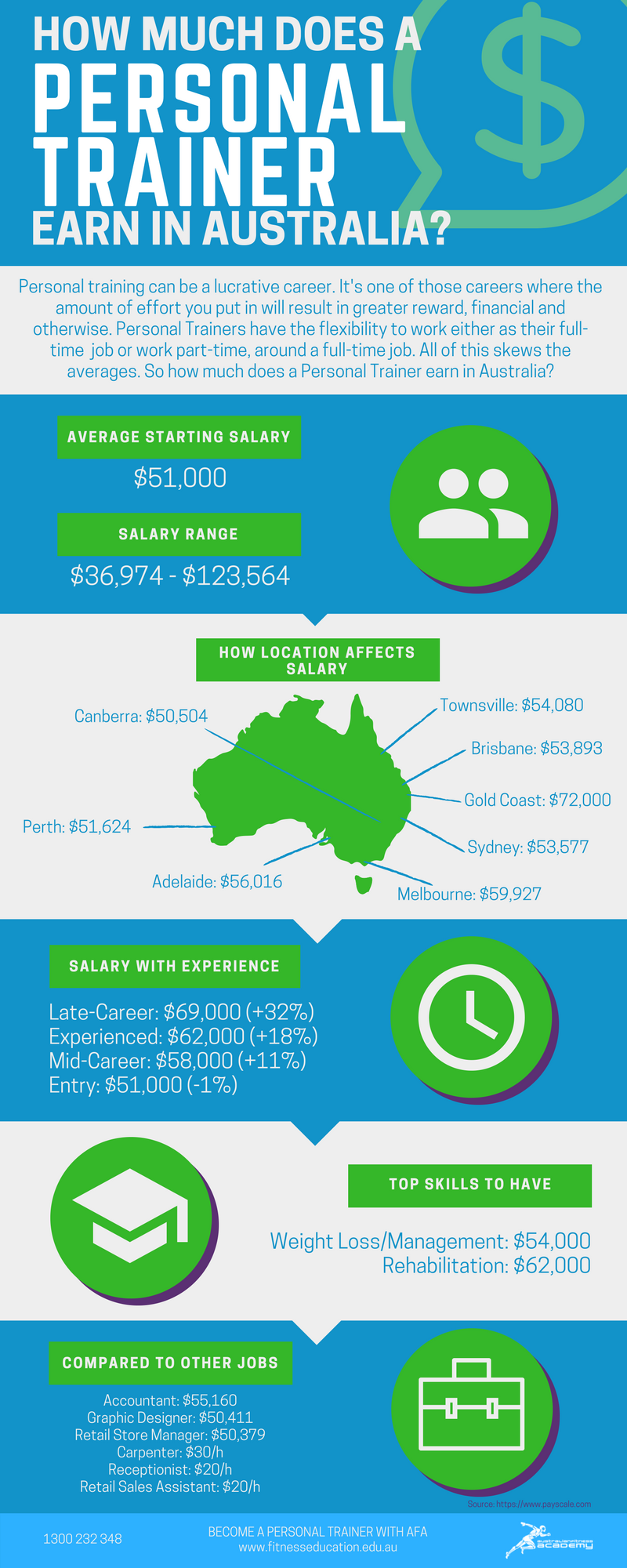 Want to use on your own website: Copy and paste the code in grey:
<a href='https://www.fitnesseducation.edu.au/blog/personal-training/how-much-does-a-personal-trainer-earn-in-australia/'
title='How Much Does A Personal Trainer Earn In Australia'>
<img src='https://www.fitnesseducation.edu.au/wp-content/uploads/2020/10/How-much-can-a-personal-trainer-earn_-Final-2.png'
title='How Much Does A Personal Trainer Earn In Australia infographic'
alt='How Much Does A Personal Trainer Earn In Australia infographic' /></a>