While we often use our holiday time to explore a new destination, indulge in food and drink and enjoy some well-deserved R&R, you might want to add in a workout or two as well after seeing our list of must see gyms across the globe. With a combination of indoor and outdoor spaces, state of the art equipment and makeshift apparatus, you'll be sure to find a workout space that appeals to you.
Muscle Beach – Venice Beach, California USA
How could this not be at the top of our list! Arguably the most famous outdoor gym in the world, muscle beach is situated on the beach area south of the Santa Monica Pier. It was established as a part of a beachfront movement of gymnasts, acrobats and many other talented athletes who converged on a small section of the Santa Monica coastline and has since become a destination for fitness fanatics and vacationers alike.
Tulum Jungle Gym – Tulum, Mexico
Another outdoor gym, but with a little less iron involved.  Mexico's jungle gym is located on the beaches of Tulum and features equipment made from natural materials – think wooden barbells and dumbbells, rocks, coconuts and tree stumps. The gym is open to everyone interested in fitness, with both day passes and circuit classes available. A truly unique opportunity to train with nature, in nature!
Hydropark Outdoor Gym – Kiev, Ukraine
In the capital of city of Ukraine lays the entertainment complex Hydropark. The park is full of activities, including beaches, boating, water attractions and tennis, and also features an open-air gym. The machines are built from old scrap metal collected from cars and industrial gear, making for a seriously hardcore workout you'll never forget.
Illoiha Omotesando Fitness Gym – Tokyo, Japan
Not your typical weightlifting gym, but still equally as cool. This fitness gym in Tokyo takes rock climbing to the next level. Designed by one of Japan's hottest designers, the climbing wall features different elements like picture frames, mirrors, deer heads, bird cages and flower vases rather than traditional boulders. The design uses the mismatch between a rugged outdoor sport and Tokyo's fashion district to its advantage, and we think it's awesome!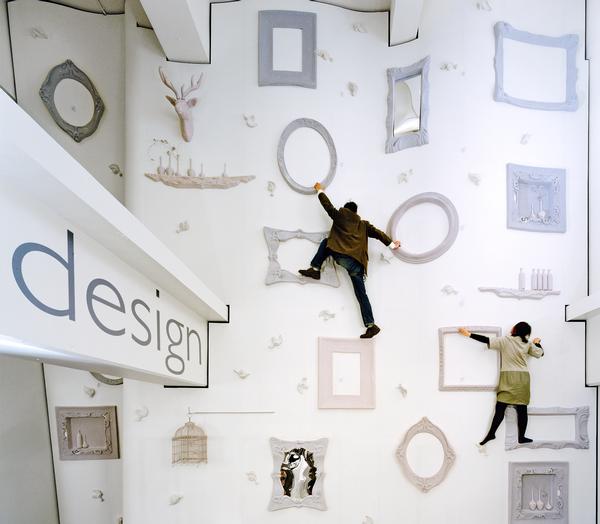 Makeshift Gym – Copacabana Beach, Rio De Janeiro Brazil
Located on the famous sand of Copacabana beach in Rio lays the amazingly simple Makeshift Gym. The only things this gym has to offer are stone weights, a concrete bench to lie on and a beautiful view of the beach. What more do you need?
Hut Gym – Dumaguete, Philippines
Constructed from local materials like palm timber and recycled metal piping, this outdoor gym is equipped with weights including a makeshift squat machine, kettlebells and chin up bars. With nothing but an open-hut roof and a concrete slab as flooring, the beach side hut gym in the Philippines will be sure to keep your mind off a hard workout with incredible water views.
NFC Court – San Francisco, USA
The NFC Court is a bodyweight circuit training system designed for adults of all ages and abilities. The court features 30 individual pieces of equipment, a shock-resistant sports flooring, and is comprised of exercise stations that allow for up to 28 individuals to use the Court at the same time. The bodyweight circuit-training system features a series of full-body exercises that can be completed in just seven minutes. There is a Fitness Court mobile app you can download to learn how to do each exercise and to challenge yourself against others. The Court is beautifully designed and has a tip-top view of the Golden Gate Bridge to add to the experience!
The Atomic Spa – Milan, Italy
Atomic Spa is a full-service wellness and fitness centre located on the ground level of the extravagant Boscolo Exedra Hotel in Milan, Italy. While the centre features a fully equipped gym, it's the ridiculous spa area that has caught our eye, offering one of the coolest atmospheres out there.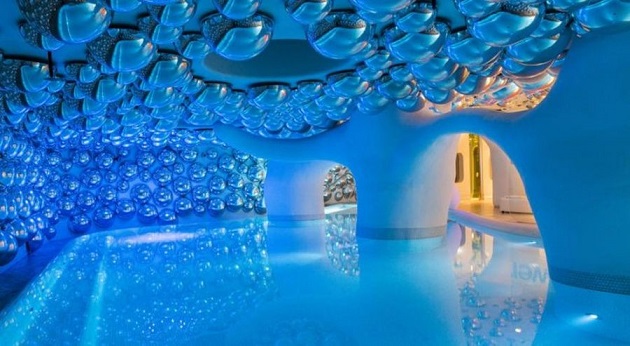 David Barton Gym – Miami, Las Vegas and Los Angeles, USA
David Barton Gyms have three locations across the States, with the feel of them being more like a nightclub than a place to workout. The gyms are upscale and pretty much tailor-made for anyone that loves luxury-type gym settings. The 40,000 square feet facilities have every piece of equipment you could think of, and the best part is that you can get a free one-day pass!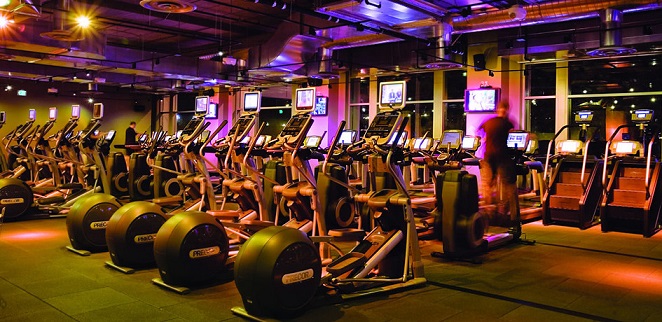 Red Rocks Amphitheater – Colorado, USA
While technically not a gym, this was just too cool not to include. The natural geological beauty has become more than a place where music lovers can enjoy a phenomenal concert, with the park now hosting ticketed fitness events for huge audiences. The site also now holds a fitness festival, including activities like yoga, Zumba, boot camps, running and kickboxing. Not a bad backdrop to workout in!