In February 2022, AFA proudly sponsored the Women's 800m event at the Beachside Gift. The race featured some of Australia's best middle distance runners, including current record holders, Olympians and some of the country's most promising young talents.
We were thrilled to see current Victorian 800m champion Ellie Sanford take out the honours on the day! We caught up with Ellie to ask her a few questions about her life as an athlete, what her training schedule looks like, and gain an insight into her life in general.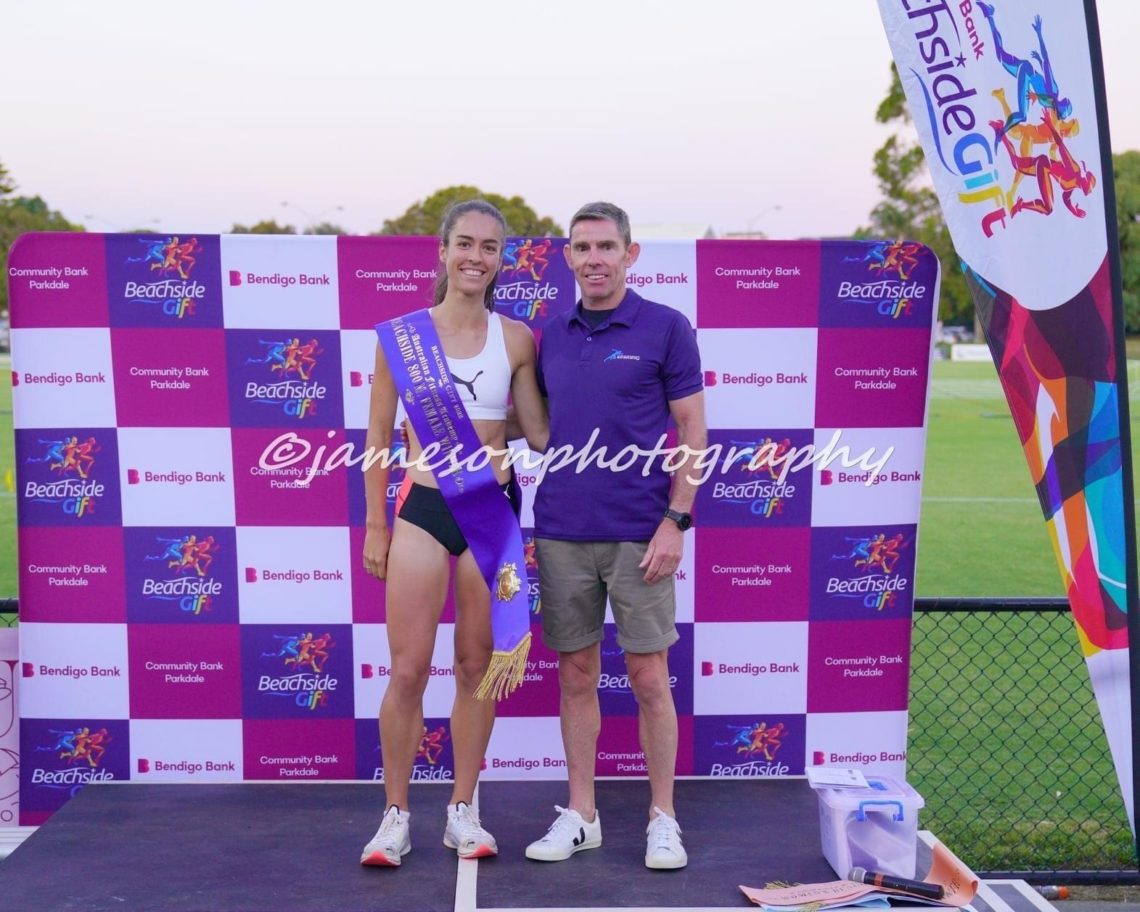 How did you get into the sport of athletics and what age were you?
My best friend from primary school (Katie) was a member at the local Little Athletics club.  One day after school, Katie's parents asked her if she was the fastest runner in her class.  Katie's response was "I can beat everyone except Ellie".  After this, Katie and her family invited me down to Little Athletics and the rest is history!  I was in Year 2 (age 7).
What does your training schedule look like?
At the moment, I'm racing most Saturdays and my weekly training schedule consists of the following:
Monday: aerobic trail session in the morning (e.g. Fartlek session on the Tan), gym in the afternoon (60 minutes)
Tuesday: longer track session (usually repeat reps of anything between 300m and 600m)
Wednesday: easy jog in the morning (30-40 minutes), gym in the afternoon (60 minutes)
Thursday: shorter track session (usually repeat reps of anything between 150m and 250m)
Friday: rest day (and I try to get a massage to help with recovery)
Saturday: race day
Sunday: easy jog and strides to recover from race day
What has been your career highlight to date?
Tough to choose one, but it would have to be winning the State Title at the 2021 Victorian Championships in the Open 800.  At the time, I had just finished a full-time internship at a law firm in the city.  I went into the race feeling underprepared because I had missed some training and competitions while completing the internship.  Although I was the underdog, I ran a great race and won the State Title (and also got a shiny new PB!).
What are your goals for the rest of 2022?
My goal is to represent Australia in some capacity.  I'm also hoping to get into some races across Europe in June and July.
What's the best piece of advice you've gained from your coaches?
Everyone has bad races (and I've definitely had my fair share).  When you have a bad race, it's easy to start doubting yourself as an athlete.  After one of my disappointing races, I was told "you were a good athlete last week. You don't become a bad athlete in one week".  This stuck with me because chances are it was 'once off' and you are actually in better form than you think.  You have to try and focus on the positives!
How do you switch off from training/competing – what do you do to relax?
I try to keep my mind busy with study and work.  I recently completed my Bachelor of Laws / Bachelor of Commerce degree and work part-time as a Corporate Finance Analyst.  To relax, I love grabbing a coffee and going for a walk, and I'm a sucker for a true crime documentary.
Do you have any pre-race superstitions?
Not really, but I always wear the same socks when I race (yes, I do wash them!). I also follow the same routine with food / drink in the lead up to my race.
Who is an athlete you look up to and why?
My favourite athlete is Allyson Felix (USA).  She's competed in five consecutive Olympic Games and is the most decorated woman in Olympic Track & Field history.  I admire her for not only her athletics achievements, but also what she's achieved off the track.  Following  giving birth to her daughter in 2019, she had a fall-out with her sponsor (Nike).  This led to public controversy and Nike subsequently altered their maternal policy to further support athletes.  After her departure from Nike, she launched her own footwear company (Saysh) and competed in Saysh shoes at the Tokyo Olympics!
Favourite holiday destination?
Noosa, Queensland.  I head up to Noosa over the Christmas break with my family.  I love training in the morning and then spending the rest of the day at the beach or reading a book by the pool.
If you could be the best at any sport in the world, what would it be?
Other than athletics, it's a tough call between tennis and surfing.  Living the life of Ash Barty or Steph Gilmore would be pretty cool!