MIRIAM MAZILLE – AFA GRADUATE
Miriam achieved the successful completion of her Cert III through online studies with AFA at the beginning of the year. She has already secured a position as a Gym Instructor at F45 Altona, actively working in the industry.
Miriam is looking forward to starting her journey towards obtaining the Cert IV, aiming to become a certified Personal Trainer in the near future.
Check out Miriam's story:
Congratulations on your new job! Can you tell us a bit about your role and responsibilities in your new position?
Thank you very much.
It was very unexpected. I had intended to wait until I finished my Certificate IV in fitness before seeking any job opportunities. However, a chance arose at F45 Altona. I considered it an excellent chance to apply the knowledge I gained from completing the Certificate III. It would also keep my knowledge current until all my studies are complete.
I am currently a coach at F45. I contribute to the organisation of functional training sessions that involve a combination of cardio and resistance circuit training classes. Additionally, I provide encouragement and assistance to members, ensuring they employ correct techniques and form while training. All of this takes place within a lively and supportive team environment, aimed at helping individuals achieve their unique health and fitness objectives.
Why did you choose to study with AFA?
I had contacted various different places that offered Certificate III and IV in fitness. AFA was the only fitness training facility that contacted me back via phone call. I had a conversation with the AFA team, who provided me with extensive information about their courses, leading me to enrol.
Have you encountered any challenges or obstacles in your journey as a fitness instructor? How have you overcome them, and what lessons have you learned from those experiences.
Yes, I have.
Upon joining F45, I initially placed high expectations on myself to achieve perfection. Juggling the task of demonstrating exercises while delivering accurate cues proved to be quite difficult. Although the F45 portal provided information about the exercises, I discovered great value in revisiting the instructional videos and additional resources available on the AFA portal.
What I learnt from that situation is that no one is perfect. As I'm still quite new in the fitness industry it's ok to make mistakes as long I learn from them. There is always support available, whether that is through the F45 studio manager, another experienced trainer or the AFA portal with all the resources available.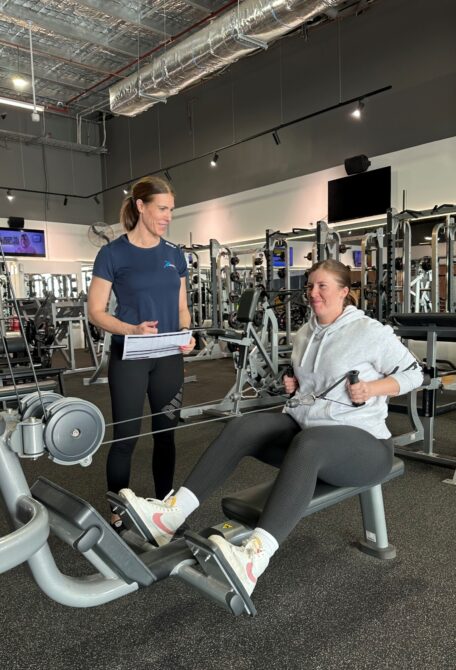 Why did you decide on a career in the Fitness Industry?
I have a passion for keeping fit and healthy myself, and it occurred to me that I could extend my efforts to assist others in doing the same.  I chose to work in the fitness industry as it gives me the opportunity to make a positive impact on other people's fitness and overall wellbeing.
In your opinion what are the key qualities or skills that are important for excelling in the fitness industry?
The most important key qualities and skills to excel in the fitness industry in my opinion are interpersonal skills, communication, patience and leading by example. These are my top 4. I also believe it's really important to get to know your client / member and build rapport. We want to make them feel special and ensure our members/ clients come back.
If you could give someone considering a career in fitness some advice, what would it be?
Don't wait and start today! I had always thought about completing the Certificate III in Fitness followed by the Cert IV. However, I had always put it in the too hard basket. I'm so happy I took that step to start.
Support throughout the course was always available. Student support were so incredible. They offered reassurance at times when I didn't believe in myself. I can't thank Aaron, Tom and Eddie enough for the support I received throughout my online learning.
I have a huge smile of my face, knowing that as a Coach at F45, I am genuinely making a positive impact on the fitness and overall well-being of the members.