Kettlebell training has been around for decades, and has increased in popularity with the rise of functional fitness training programs. Offering a combination of strength training and cardiovascular exercise, kettlebell training is an efficient and effective way to workout and improve fitness levels. What makes a kettlebell different to a dumbbell or barbell is its unique u-shape handle. Unlike a barbell or dumbbell where the weight is evenly distributed on both sides, the handle on a kettlebell is outside of the weight itself. This makes them less stable to hold and allows different grips to be used to work a range of muscles, with a strong focus on core engagement.
With appropriate programming, kettlebell training can be incorporated into any level of fitness program. Let's take a look at some of the different types of kettlebell exercises and how they can be used for the beginner, intermediate or advanced kettlebell user:
Grinding Exercises:
What?
Slow and controlled movements designed to generate full-body tension that can be sustained for a period of time
Why?
Trains for overall strength and teaches the body to create constant tension through the muscles during transitions between muscle groups
Who?
Beginners will always start with grinding movements to develop the fundamental strength and technique required to progress to ballistic movements
Those with more experience will still use these exercises in conjunction with ballistic movements
Examples:
Renegade Row
Overhead Press
Turkish Get Up
Goblet Squat
Deadlift
Lunges
Ballistic Exercises:
What?
A movement that requires muscle contractions to occur at high velocity and acceleration in a short period of time
Why?
Challenges the muscles and cardiovascular system through a wide range of motion movements using multiple joints and planes
Who?
Those with a sound understanding of grinding movements and who are able to demonstrate good technique and movement execution throughout both phases of the movement
Examples:
Kettlebell Swing
Kettlebell Clean
Kettlebell Snatch
Rotational Woodchop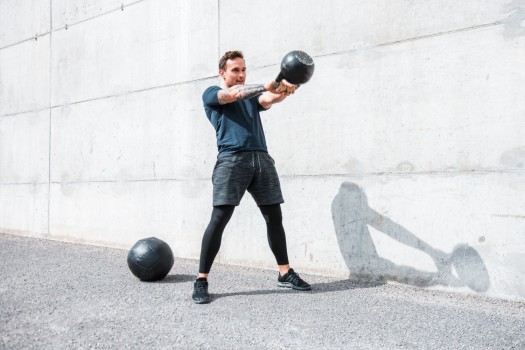 Programming Considerations:
Kettlebell programming is similar to programming for traditional resistance training methods, in that certain recommendations are made to ensure training outcomes are maximised. Some of these considerations include:
Start with single kettlebell exercises for beginners then progress accordingly
Start by learning grinding exercises then progress towards ballistic exercises
Female beginners will tend to start with 8-12kg kettlebells, and males with 12-16kg kettlebells
Choose approximately 4-6 exercises per workout
Ensure that in the early stages of the program, the focus is on technique rather than intensity of lifts

Kettlebell Programs:
Kettlebells can be effectively used in a circuit style workout, with the types of exercises included in the circuit dependent on level of experience. A beginner circuit program for example might include goblet squats, single arm rows, deadlifts, overhead presses and 2-handed swings. For a more intermediate workout, some more ballistic movements such as kettlebell cleans and kettlebell snatches could be included. For an advanced workout, sequentially chaining exercises might be programmed. This is when one exercise flows straight into another exercise, for example double kettlebell deadlifts into double kettlebell swings into double kettlebell snatches. This is a popular programming method utilised to increase the difficulty of the training program and is often referred to as 'kettlebell flow'.
If you would like to learn more about Kettlebells and how they can be best used in a training program, check out our Fundamentals of Kettlebell Training course.