Burpees – the exercise that everyone loves to hate. Incorporating both strength and cardio, as well as balance and coordination, they are one of the toughest full body conditioning moves you can do.
And while it's tough to find someone out there who actually likes doing burpees, just about everyone loves the challenge of smashing them out and the feel good endorphins they get when they are over!
Burpees target the quads, glutes, core, chest, back and shoulders, making them a great full body movement that also gets your heart rate skyrocketing. They require no equipment, so can be done just about everywhere, and can be regressed and progressed depending on fitness level and experience.
Looking to take your burpee game to the next level? Try these variations!
Burpee to Box Jump
The box jump burpee focuses on cardio and lower body strength. Adding in a box jump will get your legs and glutes burning and help to build your power and explosiveness.
How To:
Stand facing the box. Drop down into a burpee, then as you pop up stay in a low squat position. Explode up onto the box, then step back down and repeat.
Burpee to Tuck Jump
Similarly to the box jump, adding in a plyometric move like the tuck jump will work the lower body and get the heart rate pumping.
How To:
Do a burpee, then go straight into a tuck jump. Jump as high as you can, bringing your knees as close to your chest as possible before softly landing on both feet.
Burpee Pull Up
With the traditional burpee working the upper body's pushing muscles, incorporating a pull up will hit muscles like the lats, traps and biceps. This way you're working both aspects within one single burpee variation for a more effective, extensive workout. You'll also feel the fatigue setting in pretty quickly!
How To:
Stand underneath a pull-up bar. Perform a burpee then jump up and do a pull-up.
One Legged Burpee
The single leg burpee will help increase your core strength, balance and stability, as well as build your explosive power. If you've nailed a regular burpee, test yourself with this variation. The most challenging part is your core fighting the battle of balance while you are moving dynamically.
How To:
Stand on one leg, then drop down, allowing only the one foot to touch the ground. Hop back, perform a pushup, and hop forward. Regain your balance, then explode straight up, landing on the same foot.
Mountain Climber Burpee
Mountain climbers keep your heart rate up and are a great way to make burpees more difficult without the need for weights or equipment. It will also bring in your core, making it the perfect variation for a full body exercise.
How To:
When you're in the bottom position of the burpee, come up to plank position and perform a couple of mountain climbers before jumping back into a standing position.
Slam Ball Burpee
If you have a slam ball and would like to really get your blood pumping while working on your lat and core strength, give the slam ball burpee a go. Start with a light ball and go heavier as you progress.
How To:
Stand tall with the slam ball in both hands. Rise up on your toes and bring the ball overhead, then slam it into the ground as you drop into a burpee. As you pop back up, pick up the ball, lift it overhead, and repeat the movement.
Spiderman Burpee
If you're looking for an advanced burpee variation, let us introduce you to the spiderman burpee. This is a full-body cardio move that works your chest, shoulders, triceps, core and legs just a little bit extra.
How To:
When you're in the bottom of the burpee position, get into a high plank position. Perform a push up and then bring your right knee into your right elbow. Perform another push up and bring your left knee into your left elbow. Perform one last push up and then jump to your feet.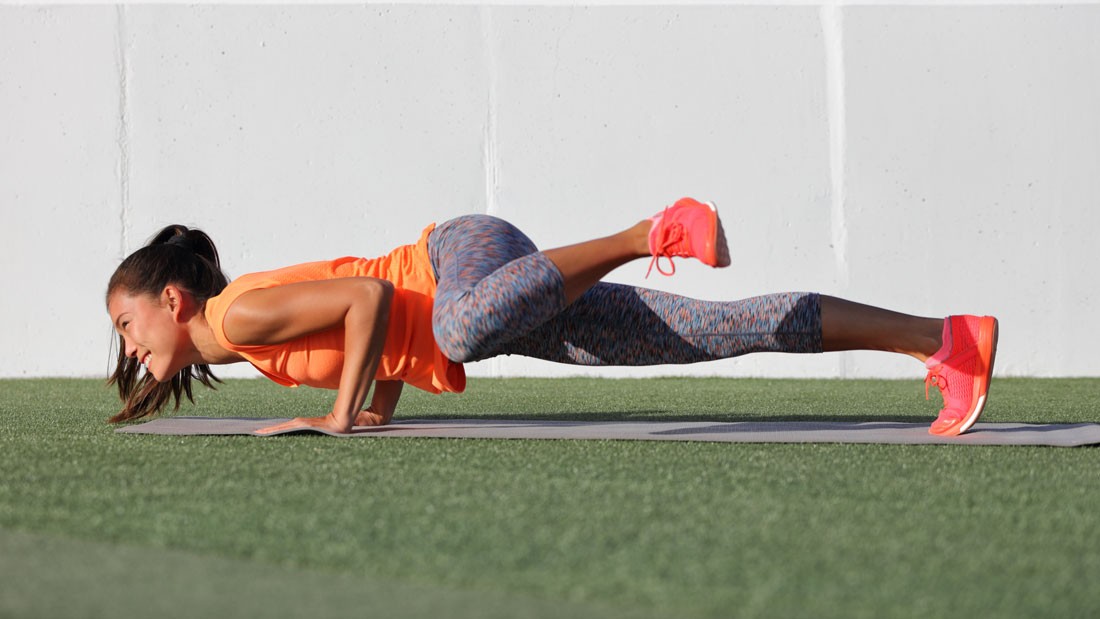 Bosu Burpee
Performing a burpee with a bosu ball will work the chest, shoulders and triceps, but focuses more on the deep stabilisers within those larger muscle groups
How To:
Stand up, holding the bosu overhead. Place the bosu on the ground, bubble side facing down, then jump back with both feet into a plank position. Do a pushup with the bosu, jump back up with both feet at the same time, and repeat.