The fitness industry on social media can be intimidating, and you might think you need six pack abs and thousands of followers to make it as a trainer. But it helps to put yourself in the shoes of a gym client and ask, would you hire a trainer based on their number of followers?
Having followers can make you look trusted and liked by the public, but the nature of personal training is a close working relationship between you and your client. In fact, it's quite common for gym clients to talk to their trainer about things they won't speak to their friends and family about. Just ask the trainers in your gym if you don't believe it!
Choosing a trainer can be much like choosing a close buddy, and there's a common view in sales that we need to 'know, like, and trust' someone to feel comfortable doing business with them. Posting on social media is a great way for people to know, like and trust you, but the tricky part is converting that into a sale.
Below is a marketer's view of how a customer moves from being aware of you, to buying your service: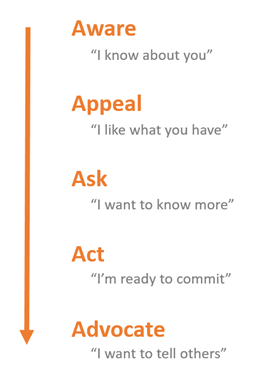 (This is what marketers call "The Five A's of Marketing")
So how can we guide a potential customer from being Aware of you, to the Act of signing up with you? We do this with something called a "marketing funnel" or "sales funnel", which looks something like this: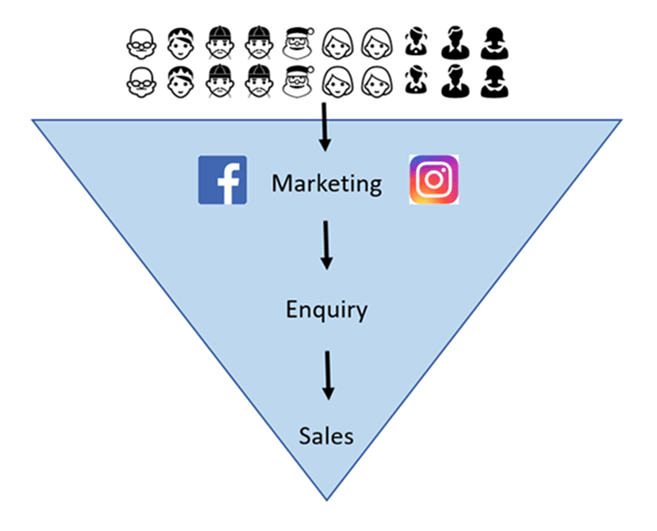 So how does this funnel work? Let's explain it with an example:
For every 1000 people who view your Instagram post, how many people will engage with your content by reading, watching or liking? We will assume 30% of viewers on average will be interested, which is 300 people.
Now for every 300 people who engage with your content, how many will click on your website or profile for more info? Let's say it's an average of 50%.
So for every 150 people who view your profile, how many will message you to ask about training? Let's say it's 20%.
For every 30 people who message you, how many will meet with you to discuss personal training? Let's say its 50%.
Finally, for every 15 potential clients you meet, how many will choose to become your client? Let's say it's 20%, which is 3 clients.
These percentages are called 'conversion rates', and we can increase our business by either increasing our traffic, increasing our conversion rates, or both. But this will only work if we attract the right people and we have the right product for them. This is known as 'Product-Market Fit'.
Having followers from a different city can be nice for those social media metrics, but these viewers are unlikely to purchase a PT session at your gym. Which would be best for your social media? 500 views from people living near your gym, or 5000 views from people on the other side of the country?
The qualities that define our traffic are just as important as the quantity of traffic. What kind of person would want to work with you? Can we reach them based on their location? Interests? Profession? Age range?
The good news is, you can find this information about your audience by turning your social media profile into a business account. This is recommended for any trainer using Facebook and Instagram for their business.
While online traffic is important, let's not forget the physical traffic in your gym. Being physically present at the gym and loving what you do can have a similar effect as posting on social media. When someone at the gym is curious enough about you, they will find a way to reach your social media and possibly enter your sales funnel.
Now if the idea of marketing and selling sounds daunting, it helps to remember 'the power of the few'. Just having 10 to 20 clients who love what you do and tell others can work wonders. Referrals are one of the keystones to a personal training business for 2 reasons:
One, we don't spend time or money marketing to this person because our client happily did it for us. Two, the conversion rate is higher because 'friends of friends' are more likely to know, like and trust each other. While social media gives you high traffic with lower conversion, referrals are low traffic with higher conversion.
Here are some stats from Marketo Blog to show how referrals compare to other marketing methods:

So if we apply referrals to our sales funnel, it allows a second pathway as shown below:
Finally, you don't need to have six pack abs and thousands of followers for someone to know, like and trust you in their fitness journey. Social media is a great tool to interact with people we cannot physically reach, as long as we remember to reach the ones who fit our product as opposed to just chasing likes.
At the beginning of your career, you might be approaching a lot of people to sell your service. But if you're doing something worth talking about, you may find that people will begin approaching you.