One of our online students, Lisa Licciardi, recently became a finalist for student of the year. An award presented by Fitness Australia for students that recognises the outstanding achievements of fitness students.
Lisa, a mother of three, has always been interested in fitness, but until recently it was always more of a hobby and something she did as a participant. Growing up, Lisa was a dedicated gymnast, training with the Victorian Institute of Gymnastics (VIG), that was until an ankle injury put a stop to that. Despite this setback, she continued to be involved with VIG through coaching, a skill that will come very much in handy once she becomes fully qualified, "it's funny how things come full circle in life, that I'm now studying to become a Personal Trainer which has a lot in common with those coaching days."
Upon finishing high school, Lisa went to university to study Occupational Therapy, a career she has pursued for many years, and a field she continues to work in. This, she said, was another skillset that will help her when working with Personal Training clients, and will give her great understanding in niches like rehabilitation personal training.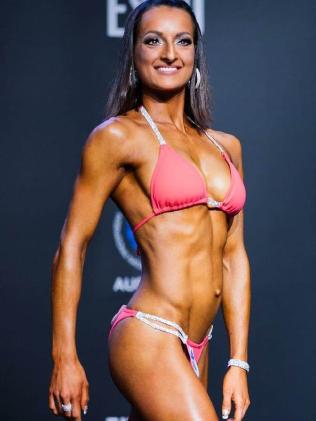 Before coming to study for her Certificate III & IV in Fitness with us, Lisa became an avid gym goer. But it wasn't until after having her second child that she wanted to get back into the gym and work on transforming her body after having two children. As she started to go to the gym more, she became heavily involved with the fitness community and eventually developed an interest in bodybuilding competitions. "I started to learn more and more about the fitness, training and the variety of the industry. It was then that I went on to compete in bodybuilding competitions, which I really enjoyed."
It was through body building that her interest in learning as much as possible about nutrition, resistance training and technique led her to thinking about taking some courses. As well as the intrigue behind developing a career that would involve this great passion of hers.
It didn't take her long to make a choice on educational provider, as she had heard a lot about AFA through the fitness community, even stating "…my coach had originally studied with AFA way back." The fact that we had been around for so long, and had such positive reviews from her peers put AFA to the top of her shortlist, and not long after creating that shortlist and having her third child did she start studying with us.
The online course was especially attractive to her. Because of her commitments, she needed a very flexible platform to study and gain her qualifications, "having three young children it just meant that I could still be an active parent and then study around my other commitments. I found that the best time to study was once I'd put the kids to bed, I would then have a few hours in the evenings to study," she exclaimed.
Once Lisa is fully qualified, she plans on building her career slowly and carefully. Learning as much as she can from more experience Personal Trainers around her before pursuing dreams of starting her own business.
Being a finalist of Fitness Australia's Active Student shows that all of her hard work and dedication is paying off and being noticed by others. It just goes to show that no matter what your commitments and responsibilities are, if you are passionate about something, you should give it a go and make room for it in your life, just like Lisa has.
If you'd like to follow in Lisa's footsteps, don't delay and start your journey now. There may never be a perfect time, but if you're passionate about fitness and want a fulfilling career in this exciting industry, you can make room for it. Give us a call on 1300 232 348 or enquire now and let's get you started.